Tsenkher Jiguur ger camp with nature Hot Spa , Arkhangai province. Tsenkher jiguur is 480 kms from Ulaanbaatar and there are 5-6 hot spa in the camp. It is very famous in Mongolia. The area of the camp is rich in different stones and rocks such as shalk, white-stones, boulder flint and kidney stones those are combined with minerals from the hot spa. The camp has 30 gers and hut. The capacity of the camp is up to 120 guests at a time.
---
Restaurant of the camp
The restaurant serves a Mongoli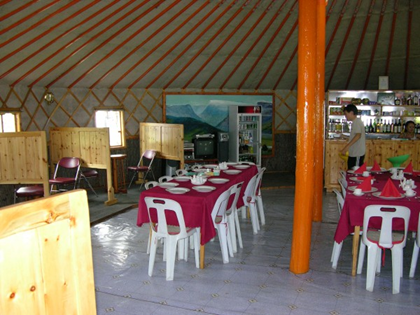 an traditional and Asian, European cuisines request by guests as a lunch and dinner.
---
Great chance to have hot outside spa in the amazing environment
Special trainings such as
how to play Morin Khuur,
how to cook Mongolian national food,
how to make Mongolian milk products,
how to sew Mongolian national costume-del
how to look after Mongolian herds
---
Horse riding