In May 2008, the Minor Food Group acquired a 70% stake in a fast growing Singaporean restaurant holding company that owned an exciting and diverse portfolio of its own four home grown brands. Thai Express is the name of the holding company and it currently owns, operates or franchises more than 60 company owned or franchised outlets in Singapore and seven other countries in the Middle East and Asia.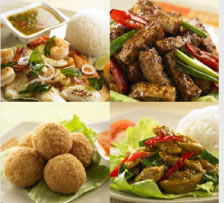 Thai Express' four core brands specialize in fast casual, affordable Thai, Chinese, Japanese and Western cuisine. Each brand has the potential to expand beyond Singapore to other markets in Asia. The Minor Food Group hopes leverage its presence internationally and supporting the international expansion of these four brands.
The brand serving Thai cuisine is Thai Express and it has particularly strong potential to expand internationally in the near term. There are currently 35 ThaiExpress outlets in Asia with 21 company owned Thai Express outlets in Singapore and 14 franchised outlets in Malaysia, Indonesia, Mongolia, Australia, Saudi Arabia and Vietnam.
The other three brands we own through this Singaporean holding company are Xin Wang Hong Café (Chinese cuisine, 14 outlets), Shokudo (Japanese cuisine, 3 outlets which two are the brand "Shokudo Japanese Coffee House" and one which is the 15,000 sq ft concept restaurant "Shokudo Japanese Food Bazaar") and NewYork NewYork (Western cuisine, 11 outlets). These brands were only recently developed and introduced in Singapore. Although they have been extremely successful in Singapore, we are not currently planning to expand them internationally through franchising.