Welcome to Steppe Nomads eco camp, your home away from home in the International renowned Nature Reserve of Gun-Galuut. Steppe Nomads eco camp is located in the beautiful Gun-Galuut Nature Reserve, approximately 130 kilometers east of Ulaanbaatar, the capital of Mongolia. On the border of the Great Mongolian Steppes (grasslands), Steppe Nomads is the main gateway to many highlights of eastern Mongolia; the birthplace of Chinggis Khaan, the ruins of Chinggis Khaan's Aurag Orda city and many more places of interest.

In 2004, Mongolia's leading tour operator Selena Travel formed a partnership with the local government and nomad community to create the Gun-Galuut Nature Reserve and develop community-based tourism. Selena Travel built and operates Steppe Nomads in the designated tourist zone of the Reserve. Gun-Galuut's mission of environmental and cultural stewardship and sustainability is reflected in the operations of Steppe Nomads. Some part of our electricity and hot water demands are met by solar and wind power. Our guests stay in comfortable gers (the traditional, felt Mongolian dwelling), furnished in traditional nomadic style. We grow our own vegetables and the local nomad families keep the camp's kitchen stocked with dairy products and meat from their livestock.
Steppe Nomads works closely with the local nomad community. We offer job opportunities and support and financially invest in the Reserve's conservation practices and policies that maintain the balance between healthy grazing conditions for the nomads' livestock and the health of the Reserve's unique ecosystems.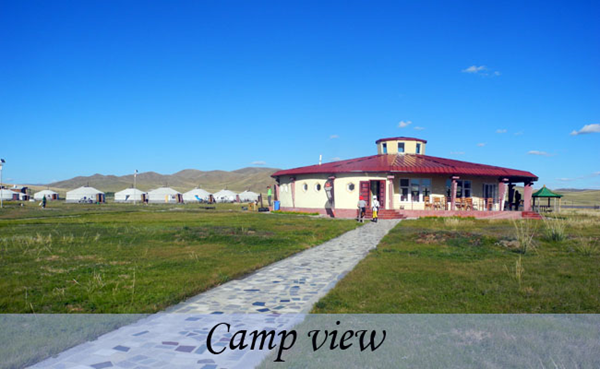 At Steppe Nomads, you can watch endangered wildlife from the back of a horse or camel, while kayaking on the Kherlen river or relaxing at the camp. You enjoy a peaceful night rest in one of our comfortable guest gers (traditional Mongolian dwelling) and our talented chef prepares your delicious and healthy meals from locally grown, organic products. You have an opportunity to visit local nomad families, share a cup of milky tea with them and learn about their customs and traditions. Steppe Nomads is the perfect choice for the traveler who wants to experience Mongolia's legendary hospitality and its wild natural beauty and combine sustainability with comfort.
Steppe Nomads eco camp is open from 15 May until 1 October every year due to Mongolian sharp continental climate and cold winter. But it doesn't mean that you are not welcome to Gun-Galuut as the reserve ranger Ariunaa and her family can accommodate you with a cozy "Eco-Ger" with good bedding.
---


Services
• "Steppe Art" handcraft shop
• Laundry service
• Oriental relaxing massage
• Traditional Mongolian clothing rentals (for photos)
• Mongolian nomadic games (free)
• Traditional archery session with/without instructor
• Spotting scope rentals for wildlife & stars viewing
• Fishing gears and other sport equipment rental
• Kayak (single & double) & Raft (8 persons) rentals
• Mountain bike rentals
• Bon fire & barbeque party
• Daily ger keeping
---
Amenities
• Comfortable Ger accommodation (Double, Twin, Triple and Quadruple)
• Wooden houses with open fireplace
• 24 hour and Solar & Wind power combinational electricity
• "Steppe Delicacy" Asian & Western Restaurant
• Bar & Leisure House
• "Paradise Garden" Gazebo by the river shore
• Western style hot shower & washing facilities
• Western style WCs
• Water Supply by 100m deep artificial well