Ashihai tourist camp is welcoming you to stay in gers, where you can experience authentic nomads setting and a balance of comfortable living. Our camp is located in Huvsgul province, known as Mongolian Switzerland. It is built on the beautiful cape of the western shore of Lake Huvsgul, surrounded by majestic Khangai Mountains. The camp is running its business since 2006.We are proud of our friendly service, quality food, enthusiastic management and motivated team.
---
Services and facilities
Wood - carved and hand - painted 20 gers
Daily housekeeping
Reception
Restaurant: bar desk, internet
Shower, sauna and massage
24 - hour electricity
Laundry
Folklore (throat singing - hoomii, shaman dance, contortion and traditional long song)
Optional daily hiking and excursions accompanied by a local guide
---
What can you do there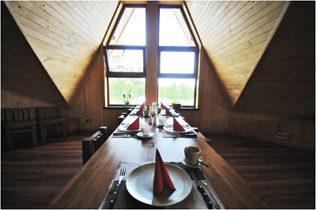 A day and overnight tours are designed for your choice and these can be extended upon your interest. Except from exploring the natural wonders, you are contributing to conservation of nature and environment as well as livelihood of local community.
- Horse riding
- Yak riding
- Reindeer riding
- Hiking
- Biking
- Motor boat to the islands in the middle of Huvsgul lake
- Visit Nomad Family
- Visit Tsaatan Family
We also organize special interest tours such as fishing with local guide.